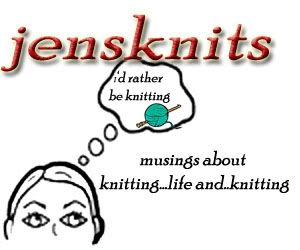 cable crazy
I.LOVE.CABLES. They are so much fun. I didn't use Crystal Palace yarn, it was way to fuzzy and just didn't look right. So I bought what the pattern called for - Classic Elite Lush, it just happened to be on sale at Fiber Factory, YEAH. It is so incredibly yummy to knit with, I'm going to be spoiled. The ladies there were actually EXTREMELY nice to me, Lori especially. I was quite amazed. Maybe they are feeling the heat.
I'm really excited b/c Ifinally have wireless at home--so I can use my work laptop without dialing in (Cox Cable only lets you connect one computer at a time) and its sooo much faster, which means that hopefully, this painfully tragic blog will begin to take shape.
Congrats to Becky on her interviews, man, I wish I had an interview at Mama Java's. Keep us posted!!!
Must make Christmas presents.
bad, bad blogger
Okay, so I'm really bad at blogging...sometimes in the decision between posting and knittng, I have to choose knitting :-). I am actually supposed to be working right now, I have a huge deadline to meet tomorrow, so will probably be up all night. I finished my j-crew from hell hat to match my j-crew from hell scarf, and both actually turned out very nice. One of these days, I swear I will get pictures posted.
I'm getting ready to start the cable headband from knitty, with some exquisite Crystal Palace angora blend that I bought at Susse ---Wheeee---can't wait to see how it turns out. I'm still insisting on learning that silly provisional/open/waste cast on, so that I can knit the knitty cable band hat. But for now, just gotta crank out the Christmas presents. I wonder, do knitters actually like this time of year, when its all about just finishing everybody's in time...hmm.....I'm sure we all like it when somebody actually appreciates our gifts! Gotta go--gotta deadline.
Finally
YEAH!!! I have links!. I nixed the whole cute blog template, but only temporarily. I finished the j-crew from hell scarf and am on to the matching j-crew from hell hat. Hopefully it will go much quicker on 8's than it did on the 4's I used for the scarf. One of these days I will have pictures. Must go home now...its almost 7pm and haven't had time to knit one stitch.