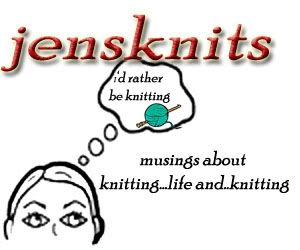 tres cute and fuzzy feet
Thanks to Ms. Becky, I went from Mrs. Brady helmut head to tres cute! I suggest everyone itching for a new holiday do head on down to The Ends. VERY cute salon on 28th and Indian School. I now feel like I can walk out of my apartment without scaring people. AND, she might tell you what her super secret mystery holiday grab bag gift is....hee hee, she told me and its AWESOME.
I brought
Fuzzy Feet
to work with me today, so I must take a picture. Yes, Becky is right, I do feel like my blog is naked without pictures, silly but true.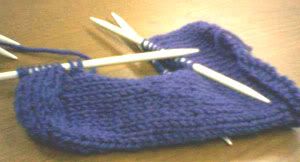 I'm using the Peruvian Wool and can't believe how soft it knits up and it has kind of a spongy texture. Oh, I can't wait to make Ribbi with it. Still turning the heel, but they are pretty quick. I hope I don't have the same problems other people have had. So far so good.
Happy weekend!
Aren't gurus masters of their craft?
Or are they just crazy people who have competely gone off the deep end.
I'm going with the latter, because I've never knitted a sweater and I'm pretty sure I fell off many years ago.
You appear to be a Knitting Guru. You love knitting
and do it all the time. While finishing a piece
is the plan, you still love the process, and
can't imagine a day going by without giving
some time to your yarn. Packing for vacation
involves leaving ample space for the stash and
supplies. It can be hard to tell where the yarn
ends and you begin.
http://marniemaclean.com
What Kind of Knitter Are You?
brought to you by Quizilla
I am amazed by sock knitters. I finally finished one sock and MAN, knitting on size one dpn's takes FOREVER! This little sock should've been such a quick knit. I hope I can finish the other one in 23 days.
Photoshop is the best :-)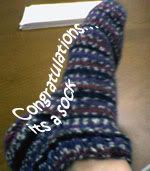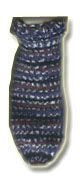 So I lied
I was just sitting here staring, might as well take a picture. Nanee Nanee booboo.
Plus, I just downloaded 30 day trial Photoshop to make stuff for blogging purposes.....you know I have so much free time.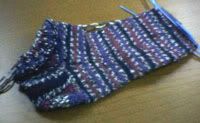 merrily, merrily, merrily, merrily....
I wish my life was but a dream. Then I could knit whatever I wanted and it wouldn't really be 24 days until Christmas. (where did the last 20 go?) I've just barely made it to the toe decreases on one of the socks. I brought it to work with me and it is sitting on my desk, while I think to myself, if I have time to blog, I have time to knit and then sadly remembering that knitting is much more obvious than blogging. So, no pics today because I have nothing to show for an entire day gone by.
Thanks to Shannon for posting the link to
Fugging Up
. I haven't laughed that hard in a long time.....streams of mascara running down my face at 7am this morning. I almost snorted coffee.
Red Hot Chili Fuggers
. Damn that's funny.
Also, I think I'm going to have to try mittens. But not just any mittens....
Yarn Harlot
style mittens. They are so beautiful.
Oh and I made my first hair appointment with Becky! Yeah, I can't wait. Thursday at 5, I think she will make my poor pathetic, hasn't been cut in 8 months hair, beautiful. No pressure.
Who has time to blog
when there is so much knitting to do. The SO actually called me obsessive. I promply told him that he should start thinking about what to buy his family for Christmas. I am not obsessive, merely trying to finish all his families christmas presents. And so what if I AM obsessive, there are alot worse things to be obsessive about right? He's the one that is obsessive about exercise, working out even when he has injuries. Hmph, obsessive my ass.
In fact, not only am I not obsessive I got very little knitting done over Thanksgiving. Why, becuase I was entertaining his family on Friday. His mom and sister decided to come down from Prescott on Friday (which is why I wasn't at Jessica's *sigh*). We had a good time, we went and saw Finding Neverland. One of the best movies EVER, at least one of the best movies I've seen in a long time. Its just beautiful and I highly recommend it, especially if you are a Johnny Depp fan, he is just amazing. BUT did DB go......NO! It was just me, his mom and sister running around, while he stayed home and did, something, not really sure what.
Oh well. At least I found the cheap digi and have pictures of some progress. Almost finished with one of the ankle socks. Size one DPN's, this is taking forever! I also started my grandpa's cable scarf. In real life it is a stone color....not sure what the name of this color is in blog world.
I was so excited when I turned the heel and picked up the stitches and there were no ugly holes!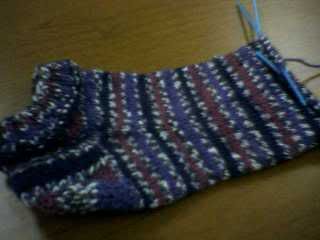 The cable pattern is almost every row, so it is ALOT of cabling, but fun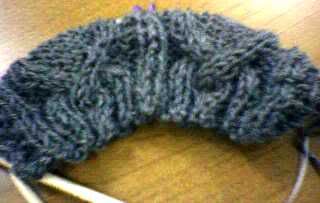 Started the Fuzzy Feet. I'm using the Peruvian wool, it knits nice and soft. I hope it felts okay. I know that
Becky
complained about the pattern, but it seems okay so far. I did have to interpret a little and went down a half size needle. Although I think I want to add eyelash to the cuff and can't decide if I just want to pick up the stitches or restart it. I was also thinking about double stranding them with mohair...hmmm.
Yeah
Jack
for finally making it into the world. I expect you to start knitting soon young man. Congratulations to Brooke and Joe.