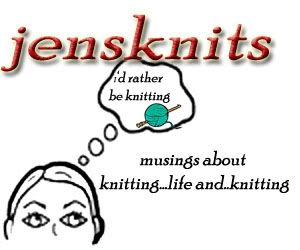 Ughh
So, I had no idea that my cute banner wasn't showing up! I put it on my web server at work and I must not have it linked up right. Its too bad b/c its totally cute. Oh well, worse things in life have happened and I have other things to worry about!
Happy weekend!
The Party
was a huge success! We had a great time and
Southwest Trading Company
was great. It is really nice to have such a cool yarn distributor locally. I do believe we need to make our winter party a tradition! It was great to see everyone, it had felt like forever!
Brooke
looks fabulous...she doesn't even look stressed or tired, its amazing! Prince Jack is absolutely adorable and I don't think anybody touched his hands. Aaah, the power of the blog.
We had so many donations for door prizes. Thanks to everyone who donated, they were wonderful. The grab bag was a hit, I think everyone loved their gift. The fashion show that SWTC put on was really cool, they modeled their new designs and new yarns. AND they sold us fabulous yarn at really low prices....I got all THIS for $25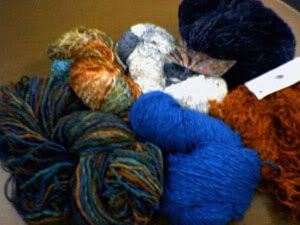 I also won this from Jessica Knits!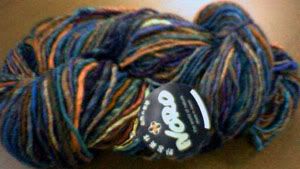 and these are
Becky's
cool Knit Notes...such an awesome idea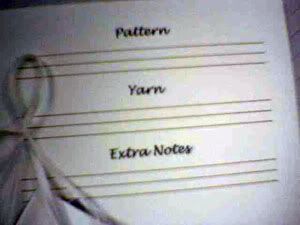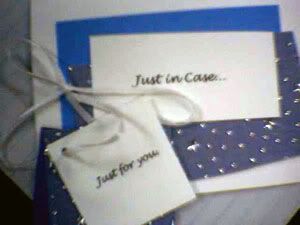 AND....Alison, who is just the best, made me these! Don't you love my legal pad background HA!!!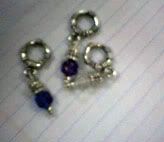 Everyone wore their handknit garments. I'm pretty sure that Brooke's mom was wearing the vest that Brooke made her. Becky was wearing Skully, which is too cute in its purple and pinkness, and
Kirsten
was wearing the lovely Karalund. I'm sure I'm missing some people, so if your reading this SORRY! Its been a long week and I'm tired :-).
Happy weekend! Happy Knitting! Happy Holidays!
Its about time
Well I finally broke out of the blogger template world. Well....modified one anyway, courtesy of Photoshop and Dreamweaver. I love expensive software! Watch for my button to come soon.
I've been scroogitized
So, sorry about the grumpiness of yesterday's post. Haven't been myself lately....maybe its the holidays, maybe it was that rainy weather. As much as I love it, I suppose it could've affected my mood. Doesn't matter b/c YEAH tonight is our holiday party. So looking forward to seeing everyone, I feel like its been forever. Maybe I was having SNB withdrawals....that's probably it.
I may be the only one not give a handmade item, or knitting accessory. I took a hint from the Harlot that sometimes knitters, especially thier hands need to be pampered too. (*wink*wink).
I am going to leave work early and head up to Jessica's if nobody else can to pick up her contribution. I hear she is donating some great things and wouldn't want anybody to miss out on them.
For Stephanie. The pattern is from Berroco, its called McGraw, although it totally looks like a version of the Fisherman's scarf to me. I paid $14!!!!! for the stinking pattern book at Jessica's. If you want it, I will be more than happy to copy it, or anyother scarf pattern in it and will have it on hand tonight.
another gratuitous scarf pic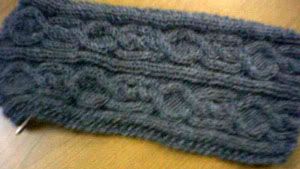 Look Illana!! Stephanie too
need to just let it go
I came to the realization last night that I will not finish my Christmas knitting. I was almost to the point of tears and way too tired to knit. There are gifts I haven't even cast on yet and I just don't know how to let it go. The weekend was pretty much lost to a side job of building web pages for an instructor and while he is paying me pretty well....I would rather be knitting. The weekdays have become mostly about tutoring my 9 year old and while I enjoy it and think she's great, right now, I would rather be knitting. My sister is begging me to do a Taco day on Sat. I know this sounds wierd, but my dad created these tacos that are simply to die for. I don't even know how to describe them. He would spend almost every Sunday during Football season, watching the games and making tacos. The entire taco process took him 3-4 hours depending on how many he made and sometimes he would make over 100. Since he died, my sister and I have been trying to perfect the 'Broaddus' Tacos and we haven't been able to get them just right. Now if it took him that long and he made them practically his whole life, imagine how long it takes us. Her husband's family is in town and they are dying for tacos...which means we have to make alot. So it looks like this coming Sat. may be lost as well.
I used to be one of those people who could stay up all night and function reasonably well the next day, but since entering the world of a regular 9-5, I can't. Maybe I'm out of practice, maybe I'm just getting old. In any case, it doesn't matter because, unless I am able to knit 24/7 for the next two weeks, its not going to happen and this has made me very sad. I am not even going to have time to bake, and I make damn good cookies from my own special recipes that I worked very hard at creating. I'm even copping out on the Cookie Exchange and making a very simple (albeit yummy) Cherry Almond bar, it only takes a few minutes to make. Cookies for me, generally take two days between the preparing and chilling of all the dough. Yes, I'm a little crazy, but I take my cookies very seriously.
I'm a huge fan of Desperate Housewives. I know there are people who take offense to this show, these are probably the same people who take offense to the Sopranos and I think they need to seriously lighten up--nobody believes Homemakers or Italian Americans actually behave this way in real life. I think it is hysterically funny, and like Lynette, maybe I just need some Riddalin to get me through until Christmas. Damn, I have no children with ADHD. (just in case, that was sarcasm. I don't really want to have children with ADHD and I am not making fun of people who have children with ADHD)
moving right along
I really need to get one of those nifty counters I see on other blogs, just to remind myself how much more I have to get done in like 2 weeks. Here is my progress. I frogged and restarted the fuzzy foot and have not yet cast on the other one. I have about 50 more inches left in the scarf. It's a 20 row repeat with a different cable pattern almost every other row. Each repeat is about 4 or 5 inches, so i guess its not so bad.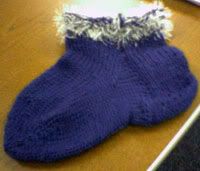 Well, I'm off to find a gift for our holiday party on Thursday
not much to say...guess I'm at my word limit today.
Happy Hanukkah