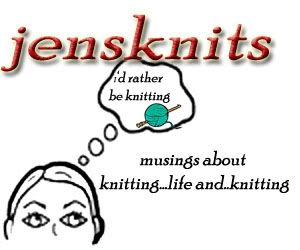 Its so nice
when you walk in your house and its totally clean and your laundry is done and you had nothing to do with it. I guess I will breakdown and buy him food to eat this weekend. But now, I have to watch Sara's secrets, becuase I am a foodnetwork junkie and work on my Grandpa's scarf. I'm halfway done with it. YEAH!
Good point Becky, good point.
due to a headache
that made my head feel like my brains were going to blow of the back of it. I didn't go to our SNB last night. Sigh, now I have to wait until Jan for the next one. However, I do have a WHOLE week off after Christmas with nothing to do (wink wink).
I think the headaches are due to 9 hours straight of staring at a computer. I wonder of the next step in the evolutionary process will be people who are immune to head, neck and eye pain from computer staring. Will these people just out procreate the rest of us out to create a generation of super computer users with no work related annoying pains
Anyway, my mantra this weekend is...who cares about the house, who cares about food, who cares about dirty clothes...just knit, knit, knit. Hopefully come Monday mornng I will have a post full of pictures of FO's....even felted!
A half hour, then I get to leave. At least I have Randi Rhoades to keep me company and then off to Fiber Factory for needles! Because yes, I need more needles.
Happy weekend!
Cookies
The cookie exchange was a hit, and the baked items were fabulous. Thank you
Alison
, for being the hostess with the mostess.
I made toffee bars -- not exactly toffee, more like a cookie. But still good. Here's the recipe.

1 cup packed brown sugar
1 cup butter or margarine, softened
1 teaspoon vanilla
1 egg yolk
2 cups all purpose flour
¼ teaspoon salt
4 oz milk chocolate broken into pieces
½ cup chopped nuts

Heat oven to 350°. Beat brown sugar, butter, vanilla and egg yolk in large bowl with electric mixer on medium speed, or mix with spoon. Stir in flour and salt. Press in ungreased rectangular pan. 13X19X2 inches. Bake 25 to 30 minutes or until very light brown (crust will be soft)

Immediately place milk chocolate pieces (I use chocolate chips) on baked crust. Let stand about 5 minutes or until softened; spread evenly. Sprinkle with nuts. Cool 30 minutes. Cut in 8 rows by 4 rows, while warm.
Yield – 32 bars
No pics today, I have nothing to show. I'm hoping to get started on my brother in law's tie tonight, but I need size 2's....yes, size 2's. What exactly is wrong with me that everything I knit is on very small needles. I must be a glutton. The FO just comes out so pretty on small needles. As much as I want to whip out 15's and some chunky yarn, it makes me feel like I'm cheating somehow. I seriously need to get over it, before my knuckles get all knarled from gripping toothpicks.
Pam - GET BETTER!!!!!
Alison - have a fun, relaxing and safe trip
Shannon - Thanks for telling me my sidebar was all screwy - is it better now?
Ilana - THANKS--you know why :-)!
Everyone else - hope to see you tonight and Happy knitting!
This hat is the one thing I managed to finish this weekend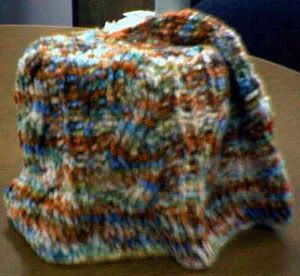 I used the chenille for SWTC, so scrumptious to work with and it gets soooo soft after its been washed. It would definitly pass Alison's cheek test. This is a really bad picture. I have it nicely draped over an upside down coffee mug, classy eh. Its cabled, but you can barely tell and the colors are much more vibrant.
I decided to change my cookie for the cookie exchange. I hope nobody will mind that I'm bringing toffee bars instead. I figure, that there can never be enough chocolate.
Work is BORING....nothing is happening, so I'm knitting. I just turned the heel on the other fuzzy foot, and getting ready to pick up stitches. So maybe I will get a few more Christmas presents done.
Yeah Al, for having the vision to create an AZ knitters/crocheter's ring. YOU ROCK and I think maybe you have ADHD....but that aside you still ROCK. If you are from AZ and you haven't joined yet....just do it
http://arizonaknitters.blogspot.com/
Ilana - Shannon, are your buttons showing up?!? Oh, and I added Alison's button too....I'm a little behind the curve.