Two days down
five more to go, before my week of freedom is over and I must make the best of it. Mama Java's was great yesterday. My SnB pals are the best! Getting to know all of you turned the crazy year I started into a great one. You all are a supportive, talented, wonderful group of girls!
Thanks to Sandy (Brooke's mom) for a wonderful lunch. I'm almost done with the back of Ribby and Today, I go to Jessica's to buy, buy, buy. Well, not really that much. Just enough for the French Market bag from Knitty. I'm thinking either Lorna's Laces worsted or Manos...hmmmm decisions.
I'll post a pic of the back of Ribby as soon as its finished. I'm starting to think that Ribby is not a good name for a knitted design...I have a feeling mine is going to go to the pond.
Oh the things I will make with this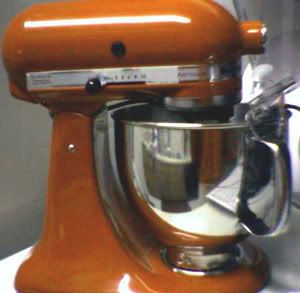 That's right, its a 325 watt, 5 qt retro red Artisan Kitchen Aid. The dream tool for cooks and something that I've fawned over for years. So, not knitting related, but pretty cool nonetheless.
I'm so glad everyone's knitted objects were a hit a Christmas. Its nice to hear that people appreciate the things we do for them. Mine were no different. Everyone loved their gifts, but the hit was the little felted booga bag I made my niece, she thought it was the greatest thing ever. Although, I'm not sure if it was the purse or the chocolate I put in it. LOL! My grandpa wore his scarf all day and my mom was amazed that her daughter could make something that intricate and beautiful.
Christmas was nice, a little crazy and I'm glad its over. I'm finally going to knit something for myself! It's been almost a year since I started knitted and I have nothing of my own....so here is the beginning of my very own Ribbi! Everybody else better get started! HA!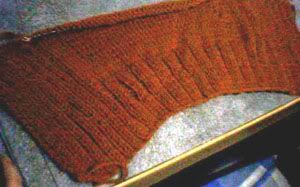 I can't wait to see everybody tomorrow, I think I'm going through withdrawals.
Happy knitting.