I'm officially a joiner
and part of the ribby knit along. Hopefully it will help take the trauma out of my first real knitted garment. Speaking of which here is the left front panel of ribby.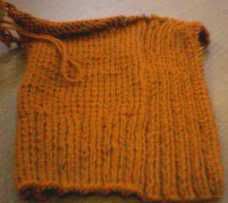 I like the way it looks better than the back, maybe because its smaller.
And my booga bag in its huge prefelted form, although not as huge as Sandy's Oregon Tote...which she finished. YEAH Sandy.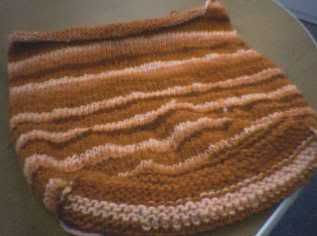 I said I was going to work on the icord last night, but I didn't. Surprise eh...who goes to SNB to actually knit.
I did however teach a very nice lady how to knit English style. YEAH me. Its much slower and more cumbersome, but actually easier to teach, weird.
There were a ton of people last night, we are definitely outgrowing Changing Hands. The small room makes it hard to move around and talk to people. There were a few last night that I never even got a chance to say hi to. If anybody has any ideas for a good meeting location in the Tempe/Chandler area, we would love to hear them.
I had said that I could meet a couple people on Sunday. Actually my weekend has been taken hostage. DB's sister is coming in from Utah on Friday to run the Rock n' Roll on Sunday, she'll be here until Tuesday. His mom and other sister and her husband are coming down from Prescott on Friday as well. Its gonna be a grand ole' time. No knitting....or rugby (Kim) for me. :-(.
Ouch
I haven't blogged since last year! heh, heh. Ok, that was bad. But its still been a few days.
You know how you get everything done at work before you leave for vacation to minimize the disaster that will ensue upon your return....it never works so why bother. I suppose it wasn't that bad, except the getting up at 6am part.
I finished the back of Ribby. I think I casted off too tight, I don't know. I 'm going to wait until I have the front panels done to decide if I want to redo it.
In the meantime I am working on this....my very own Booga bag!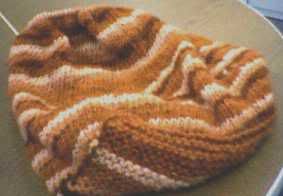 the color looks really washed out in this picture. It pinks and reds....suprise huh. Yes, it matches my Ribbi and my mixer! LOL!
I only have a couple more rows left and then the icord, which I'm going to work on tonight at SNB. I'm really glad b/c while I love the colors, I HATE the yarn. Its Mango Moon Woolie and it is quite possibly the worse yarn I've ever knitted. It breaks really easy, its very scratchy, it has little twigs and things stuck to it and kind of like Kureyon wit different wieghts, but the transitions aren't as smooth. It better felt nice. Oh how I wish I had bought the $15 Manos.
Yeah Secret Pals4. Can't wait.
If you haven't read recently (although it would amaze me) Yarn Harlot is running a tally for donations for Doctors without Borders. Over $9000 so far!!! and somone's gonna win mittens! have you seen those mittens!