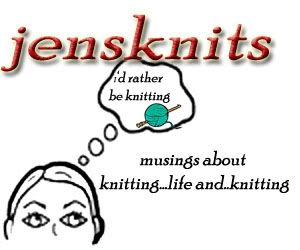 No it wasn't the rain
I either have a cold or really bad allergies I can't tell which. Burning eyes and nose and sinus congestion. Just another great thing about living in Arizona, you never know what it is. Although secretely I'm blaming it on one of the sniffling kids from Saturday (just kidding Al) So, yesterday I took the day off, rented some chick flicks (13 going on 30 and The Little Black Book) and sat on my couch and knit up a storm. Then went to bed by seven and slept for almost 12 hours. I did manage to finish the body of the Chikami...so know I'm dividing for the armholes, and yes, I think I managed to mess up AGAIN. Yes, I've laid it on a big pile of work on my desk.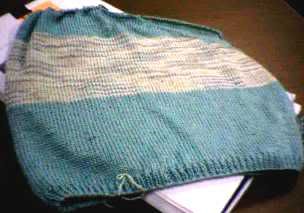 It feels like forever since I've met up with my pals! It looks like everyone had a great time at Mama Java's Wed night night, and I hate that I missed the knit in at Jessica's. Oh how I wish there was a yarn shop in Tempe, and of course I can't go to Lux, damn work. I don't think I will ever get to go to Lux. I will definitely be at Changing Hands. Anybody want to meet up early and grab a bite at Wildflower?
Tomorrow is my nieces 7th birthday party. I've been joking that you would think it her sweet 16 or something with the party my DS is throwing her. She's getting a bouncy castle (like the one Al rented) a snow cone machine AND a spin art machine. This is some kind of contraption that throws paint around. It should be great fun. In all actuality, my sis is really excited because they just moved from a small two bedroom condo into a big house, so its the first real birthday party Malora has ever had.
Thanks for the comments on the bag! I actually had someone ask me if I sell them!
Oh and Shannon...yes we must get together for some serious Buffy discussions.
Does anyone else know who their Secret Pal is yet? I haven't received anything!
A FO, just for me!
After a year of knitting for others, I finally have my very own Booga!
prefelted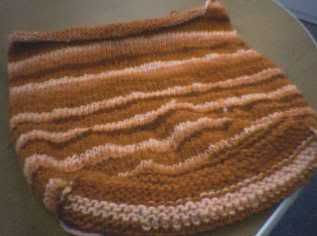 felted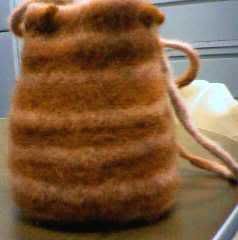 After three trips through the washer I'm happy with the size. I'm also happy with the colors, but not so much with the straps. Mango Moon Woolie doesn't make a very good Icord, so I think I'll redo it with some sturdier wool.
Ribbi is in the UFO pile for now, I've been working on Chikami. My camera is REALLY bad, it is actually green, not blue. But here's a pic anyway.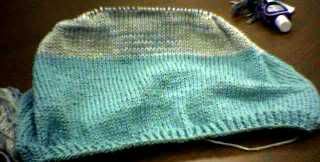 I'm trying to destash a little, so I used some Berroco cottontwist that has been hanging out for a while. I like how its turning out, but I know its going to be too small, unless I drop that 15 pounds that needs to come off. I'm also not sure if I like the feel of the rayon blend, its not scratchy, just a little hard.
I know I promised pics of the messed up Ribbi....just can't bring myself to look at it quite yet.
I also need to get on that SP4 questionnaire....I'll do that soon too.
Happy Knitting
um....warm
So, do ALL knit bloggers live where the temperatures are below freezing. Perusing through the blog world today, I think so. I should've taken a picture of the people laying out by the pool yesterday. Gotta love Arizona, where this is the only time you can go outside without your skin burning off your face. Of course, we don't have to shovel snow.
I needed something seriously mindless, so I started a Chikami. I PROMISE to post pics tomorrow. But now, gotta go to Yoga.