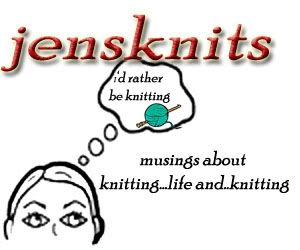 Something is in the air
and I'm calling it the sleepies.
Wendy
has it too and has decided that it is a sympton of the desire to hybernate. Other knitbloggers have it as well. Its when you just want to sleep, sleep and sleep again. Although, with me its more of the inability to get my arse out of bed in the morning. I'm not sure what that is all about, but all week long I have arrived at work in the nick of time, hair dripping and makeupless. Then by three I'm ready to hit the sack!
In other news...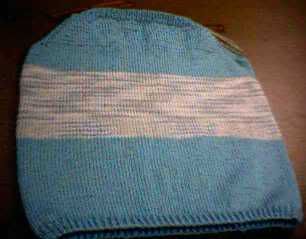 and although you can't really see it in this picture, this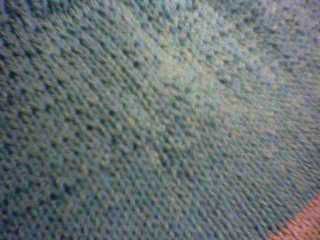 really peeves me. You can see where I divided for the front and back. The body stitches are so nice and tight. And then bam....its like I went up a needle size. When in reality, I went down a needle size AND switched from addi turbos to bamboo, because it helps me knit tighter. Err Argh. I hate tension.
TGIF!
You are a
a fair and beautiful maven with eternal youth! And I'm the secret pal so everything I say is true, dammit!
OK, I'm not gonna argue :-)
I finished the back of the chikami and am determined to go home and finish the front. I think it might even fit!!! I'll post a pic tomorrow.
Brooke, I hope you get some sleep. But don't expect Jack to be on a normal schedule anytime soon, so don't beat yourself up for it. Sorry to burst any bubbles, but babies don't know 10 pm from 10 am. Oh and who cares what anybody says about blogging about Jack, how else would I know how he's doing and how cute he's getting!
Ok, here are my thought on the Three Day walk. It makes me grumpy that a charity demands that you raise a certain amount of money to walk and if you don't raise that amount they demand that you pay the rest, or you can't participate. I mean what if I only raise $1000? I can't afford to pay the other $1200. So I would opt not to walk. This means that the beneficiaries are out $1000, or would they take the money that I've raised, say thanks for playing, but now go away. Don't get me wrong, breast cancer research is important...but JEEZ, its charity. I think they turn more people off with this policy than recruit. So, I probably won't do it. I mean seriously, I was grumpy about the $75 they were going to make me pay to run the 1/2 rock n' roll. I pay enough money to torture myself with cycling and yoga.
That being said....
I have more questions to answer.
1. What are your rules/ideas/thoughts on novelty yarn?
Do you hate ladder yarns like Eros? Do you not really dig long eyelashes?
Yarn rules, huh? Are there any. I like novelty yarns. I've just never used them, except eyelash as trim. Not really sure why. I always drool over them in my LYS.
2. Coffee, hot chocolate, or neither? Coffee, coffee and more coffee....I'm an addict. Tea is good too.
3. Let's talk reds. Do you prefer a good, solid red or a nice rich slightly varigated redish thing? (For example, would you prefer the solid red Manos or the red-darker red-slight pink varigated one?) Or is it all the same wonderful color to you? Ooohhh, red....varigated Manos red.....oooohhh. But I love all shades of red. Anything red really, red wine, red food (betacarotene ;-), red is good until it starts looking purpely.
4. Are you a paper journal/decorated notebook kinda gal? Hmmm....I like journals and notebooks. I've never made myself a decorated notebook, but I have journaled. Now that you mention it, I do like the knitting journals that I've seen.
Thanks Lily!
Yeah, tomorrow is Friday!
Was I supposed to knit last night,
because I managed one, one whole row of a brand new Ribby panel. Although, I did manage to help Kim figure out that her gauge is almost an inch off for the sweater she's working on. I don't swatch, or even check my own gauge...who am I to be telling other people theirs is off! and I wonder why I can't knit a sweater.
Changing Hands, as always was a good time EXCEPT.....where was
Shannon
,
Becky
,
Brooke
and
Alison
? Ok, Al you're off the hook, you were teaching. but hmmmm...lets see, Brooke couldn't do two knitting meetups in one day, okay I buy that but I NEVER want to hear about driving in the rain again. Shannon and Becky had their own little meeting out in Avondale or somewhere that might as well be California! hmph. That's okay, Pam, Sam and I had a lovely time eating at Wildflower and the food was yummy. So there!
I'm not really sure who all the people were! Seriously where did they all come from? There was a blast from my not so distant past. Eva, who is a long time knitter, and I had a MPA class together! This was back in the day when I was a graduate student, maybe I should think about getting back to that.
Lily, you're the best! I'm dying to know who you are. Without you, I would have completely forgotten about Groundhog's day...which coincidently is also my nieces actual birthday, I should probably call.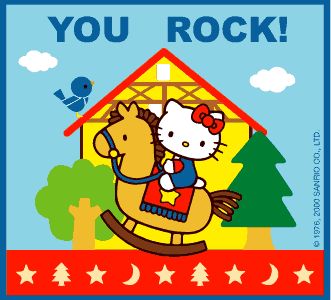 no YOU rock!
Just ordered another gift for my pal!
13 vs.30
I've been brooding over turning 30. Yep, 26 days and counting until the big 3 0 and I'm really not looking forward to it. But I spent sometime with my lil sis this weekend (technically she's 14. I have a 12 year old brother too) and I'm pretty sure my perspective has changed. So as not to invade her privacy I won't go into detail. I will say that all the things we went through are still there, only its multiplied tenfold. Disease being a major factor, because those lovely abstinence only programs are working wonders. Suicide attempts seem to reign supreme as well. (
Heathers
, anyone, damn I loved that movie) I think I grew up to fast, but man, she's seen more 'bad' in her life than I ever did at that age. I wouldn't go back to highschool, not even if it meant I don't have to turn 30. Although I wouldn't mind being 5 again :-)
On the knitting front...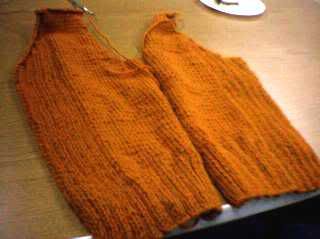 There it is....two right armholes. While this isn't as bad as The
Harlots
two beautiful right handed lativian mittens (for that I would crawl in the cave and drink large quantities of wine) it is enough to make me sad. Especially when I ripped it out yesterday and proceeded to do it again. Once is bad, but TWICE....TWICE. Why knitting gods, why, why?
But I do have my SP4 pal! She seems way stressed out with school, and I'm about to send my first surpise....oh, this is gonna be fun!
Pam, Shannon, there are now three ME geeks...I know there are more out there. 'cmon admit it, you know you want to.
'Lily'
is my Secret Pal and she's already totally brightened my day with her awesome personality. So Lily...this is for you!
1. Are you a yarn snob (do you prefer high- a nd/natural fibers)? Do you avoid Red Heart and Lion Brand? Or is it all the same to you? Um....no, I mean yes, I mean no. Well, kinda. I have no Red Heart in my stash, but I do have some Lion Brand. As long as if feels good to work with I don't care what it is.
2. Do you spin? Crochet? I'm crochet deficient. I tried to teach myself to crochet before I taught myself how to knit and I'm completely useless with a crochet hook, unless I'm picking up stitches or fixing a dropped stitch. I don't spin....yet.
3. Do you have any allergies? (smoke, pets, fibers, perfume, etc.) I live in AZ, the land of wierd allergies. I have no idea what I am allergic to, but absolutely nothing fiber, food or scent related!
4. How long have you been knitting? One year...almost to the day. It saved my sanity.
5. Do you have an Amazon or other online wish list? Yup...but I don't think its public, I'll have to check it out.
6. What's your favorite scent? (for candles, bath products etc.) hmmm,,,,I'm so not picky in the scent department. I like vanilla, jasmine, clean scents. Pretty much like them all..but much to my dismay I can't take bubble baths because my water heater isn't big enough to fill my tub *sigh*
7. Do you have a sweet tooth? YES...dark chocolate, yum. Although, I suppose I wouldn't refuse a fruit cake...hee hee.
8. What other crafts or Do-It-Yourself things do you like to do? I used to cross stitch, but knitting steals all my free time.
Although, I love to cook and was briefly enrolled in Scottsdale Culinary Institute, until I realized I didn't want to take out another $30,000 student loan!
9. What kind of music do you like? Can your computer/stereo play MP3s? (if your buddy wants to make you a CD) I can play MP3s. Everything except for hip hop and country. I own everything from Simon and Garfunkel to Tool.
10. What's your favorite color? Or--do you have a color family/season/palette you prefer? Red, red and more red....I even own a red couch and I painted a yellow accent wall.
11. What is your family situation? Do you have any pets? Two very fat lazy cats. One named Gracie and the other Y..yes the letter Y, it wasn't me it was the DB.
12. What are your life dreams? (really stretching it here, I know) To be independently weathly HA! Not really, just to live a peaceful and fulfilling life (whatever that means) and pay off my student loans!
13. What is/are your favorite yarn/s to knit with? Soft merinos, anything natural and did I mention soft.
14. What fibers do you absolutely *not* like? hard acrylics
15. What is/are your current knitting obsession/s? I am currently trying very hard to make something I can wear. Its not working out very well.
16. What is/are your favorite item/s to knit? Um, anything cabled....although I really don't have a favorite. I like hats, and really want to get this sweater thing down.
17. What are you knitting right now? The Chikami from Chiknits and the Ribbi is still on needles and I still have a sock to finish.
18. What do you think about ponchos? Some are nice, some have gotten way out of control. Its a fad and it will pass, I actually like wraps better.
19. Do you prefer straight or circular needles? CIRCS....I haven't knit on straight needles in a long time.
20. Bamboo, aluminum, plastic? Oh, my needles stash is out of control! I love, love, love needles. And currently have an Addi obsession, but bamboo's have their place when working with slippery yarns.
21. Are you a sock knitter? I've knit one sock and have yet to finish the match. But I love socks and want to make more....I dream about knitting a pair with Lorna's Laces! :-)
22. How did you learn to knit? I taught myself, my mom is a very crafty chick who crochet's, sews, cross stitches, embroiders and makes the most beautiful hand quilted quilts ever. She tried to teach me to crochet when I was little, but I'm left handed and I never caught on. So, a year ago, when I needed something to keep me busy I picked up needles and haven't put them down.
23. How old is your oldest UFO? Tank Girl from SnB, I started it last summer and, just never finished it.
24. What is your favorite animated character or a favorite animal/bird? I don't, I guess I don't really have one...but I was tinkerbell one halloween.
25. What is your favorite holiday? I think 4th of July, because we always spend it with relatives in Huntington Beach and its so nice and relaxing. I love the beach, but I hate getting in the water, I grew up with 80 degree pool water and the ocean is soooo cold. But I do love Christmas time, minus all the craziness and stress.
26. Is there anything that you collect? I'm not a collector, well except for kitchen appliances, knitting supplies and books.
Wow! That was kinda hard and who knows if its even helpful! I can't even imagine trying to a 100 things about me!