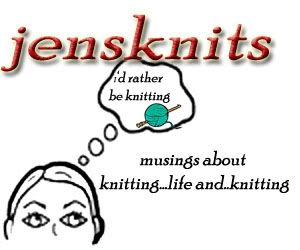 Finally some knitting
Sort of. I'm very bored with my current projects. I think I may be succumbing to the clap. (I'd love to see how surprised people searching for vd are when the hit knitting blogs) Now that I've felt knitpicks yarn, I think I may go with it. Still working on Ribby panels. ho hum.
Had a great time with Brooke and Michelle last night. I was so happy to see them both and excited that Michelle could make, she's great and needs a blog. Our little group has gotten so big, its hard to keep up with everyone! Yes, I did hold Jack. He sat happily on my lap and watched the TV, but don't let Brooke fool you. I properly sanitized my hands before picking him up. Although, I do wonder what she slips him to make so happy all the time. I know she says he cries, but I don't think I believe her.
I have the bestest SP in the whole wide world. Monday mornings are crappy. Then you open your email and what is waiting for you. Not work! A gift certificate for Elann.com. Lilly is cool.
My co-worker is gone. Yes, that means double the amount of work for me. Who knows when we'll replace her, I have a state job remember. Things don't happen quickly. So, I apologize in advance if my posts are a little discombobulated.
90 Minute Meals
The other day I said something about being in the kitchen for an 1 1/2 hours. Mike was teasing me about how I should have a show called 90 Minute Meals. You would think I would have cooked up something spectacularly gourmetish in that amount of time. Alas, it was simply fettucine with creamy primavera sauce and chicken. What took so long was chopping all the veggies, I have the worst knives and the smallest stove known to man There is no actual recipe, but since people are wondering here's what I did.
veggies
a couple brocolli crowns - chopped into bite size pieces
a couple bell pepppers (whatever color you like, I prefer red and yellow) - julienned
a couple carrots - julienned
a couple tomatoes seeded, skinned and chopped
one sweet or red onion- roughly chopped
container sliced mushooms
a couple zuchinni - chopped
OR, you can skip the whole chopping process and buy whatever kind of veggies you like right out of the produce section already chopped up
sauce
1 15 oz container part skim ricotta cheese
1 or two cans evaporated skim milk - you can use regular milk, half and half, heavy cream, whatever you want. I usually go the low fat route and evap skim milk makes things creamier than regular skim milk and it cooks better.
one cup parmesan cheese
a few boneless skinless chicken breasts - cut into chunks or slices
one bottle marinade - whatever you like. You can use wishbone. You can use balsamic vinegar and olive oil with some garlic and basil, salt and peper thrown in. I used 30 Minute Marinade, Herb and Garlic
dried basil and oregano
kosher salt fresh pepper - or just use what you got
I like spice so I put in some crushed red pepper or a few splashes of chili sauce, I think it was Trappey's
Olive oil
package of pasta, whatever you have. Just don't use angel hair, its to thin and won't hold the sauce.
put the chicken breasts in a big ziploc bad and cover them with the marinade. Leave for as long as you can, but at least 30 minutes.
heat oil, a couple tablespoons and saute veggies until tender crisp, throw in tomatoes at the end so they don't cook down all the way.
stir together milk and ricotta until nice and blended. In a small pot bring milk and ricotta to a boil stirring constantly.
Add parmesan basil, oregano, salt and pepper and red pepper. I season to taste and always add more than any recipe calls for, so use your judgement. The trick with dried herbs is to rub them in the palm of your hand...it releases the oils. Stir until thick and bubbly. Set aside.
Cook pasta according to directions
Saute chicken in a little oil until nice and golden brown.
Mix all parts together and wala....
If you have a normal size kitchen, it shouldn't take 90 minutes.
CRAZY
Yep, that's me today. My co-worker's last day, she gets to go be a stay at home mom, but more about that later. Meeting Brooke at 5:30 at Coffee Plantation on Mill if anyone wants to join!
Tomorrow--its all about soup and maybe knitting.
Sucked in
Damnit Pam, why?!?
1. What is the total amount of music files on your computer?
805 mb, on my current laptop. Other work computer, probably four time that and on the home Itunes, I have no idea. If I include the shared music on Itunes, there are years and years of music thanks to the IT guys.
2. What was the last CD you bought?
Um, I think it was Incubus, Megolomaniac. Right before the election. It seemed appropriate. Generally, I don't buy CDs, just singles from Itunes. So, if you count that it would be Dresden Dolls, Coin-Operated Boy.
3. What was the last song you listened to before reading this message?
Ray Charles. Lets Go Get Stoned, currently Unchain My Heart-- courtesy of the aforementioned IT guys.
4. List 5 songs that you often listen to or that mean a lot to you.
Crap...I don't have to say why do I? And just for the record, I'm horrible with band names. In no particular order, the ones that mean something.....
Got You Where I Want You - The Flys
Thing Called Love - Queen
Teen Spirit - Nirvana
Brown Eyed Girl - Van Morrison
I Miss You - Blink 182
Some Where Over the Rainbow - and anything else Judy Garland has ever done
A Hard Day's Night - The Beatles
Everybody Needs Somebody - The Blues Brothers (ode to my dad)
Sex and Candy - Marcy Playground
Dream on - Aerosmith
Sound of Music - Sound of Music (another ode to my dad - who used to wake us up in the morning by bellowing...The Hills are Alive....you get the point)
No Woman No Cry - Bob Marley
This list is not complete, I know I'm forgetting some and will remember as soon as I hit publish. Oh well.
5. Which two get tagged next and why?
Brooke
because she hasn't made a list in a while
Illana
because I'm interested to see what the hip college students listens to
Things that make me happy
I'm so easy to please its almost sickening.
I got my cute stitchmarkers from
Amyville
. I watched Tyler Florence yesterday morning, shopped for my SP and then watched the Matrix trilogy yesterday, back to back (exciting, I know, how disapointing is that trilogy). I received an email from Lily, my awesome SP, who lives in 'The City',
Parley
replies to a comment I left him, I cooked a meal that took me an hour and a half and you'd think I hit the freakin' lottery. When the
Harlot
replied to a comment I left her I thought I'd died, I mean that women gets a gazillion comments a day! If Mike ever reads my blog, I'll hit the floor. I must be a geek who must live a sad life, because the small silly things really make my day.
Today, I'm joining
Jen
in the celebration of International Pajama Day. Football is just an excuse for repressed grown men to grope other men's asses. This is fine, I have no problem with men touching other men's asses, but call it what is and don't pay them millions of dollars for it. So today, I stay in pajamas, drink coffee, then wine and knit. This will make me happy.
Oh, and if anybody needs a reason why a Condi nod would be very, very bad in '08, just let me know. I'll be very happy to give you a thousand, very sound ones. Which is tragic because a women in office and an African-American women president at that is one big thing that would make me happy.