A good day to spin
Of course, I don't know how. But what's to stop me from learning when Lilly is the BEST secret pal EVER. Seriously, this blows me away...
She didn't just stop there...
Yeah, I'm speechless. A drop spindle AND 4 oz of red merino that is so incredibly beautiful I'm afraid of screwing it up. She's so thoughtful, she even included instructions. I almost cried and Mike thinks I'm a little crazy. Thankfully, he has no idea that this will most likely turn into a new obsession. Lilly, you have made my entire year and I am so excited to get started, I can't wait! Thank you, thank you thank you!
Um, Becky....help please :-)
There was another package waiting for me! Two in one day, whatever did I do to deserve that?
The very talented
Renee
sent me this. Have you ever had the carmel kisses? YUM! I include the tre cute notecards that
Becca
sent me. (BTW, I love nutmeg!)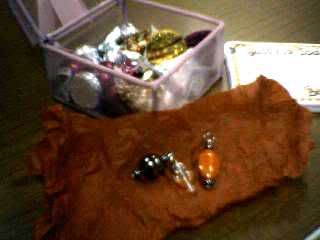 The little cuties down in the corner are these. I know still a little fuzzy, but they are the cutest little charms.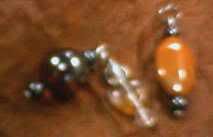 Now I'm on sensory overload! I should do work, but I think I'll learn to spin instead.
Oh and the show last night was fun. The actors were decent and I think I was the youngest one in the joint! It started at eight, not six...I'm not THAT old.
Yeah, yeah yeah
So I'm a blog slacker. In my defense, I had a very traumatic weekend. Of course, nothing that a few cranberry flavored vodka tonics and a few more glasses of wine couldn't cure.
Actually, its not so bad. I mean I woke up on Sunday and the world hadn't ended, I woke up on Monday and I still had to come to work, so I guess Oh Blah De, Oh Blah Da, right?
All the birthday wishes were very lovely. Thank you so much everyone! I received a very cute ROAK from
Becca
, I love the card and the notepads. A 'just because' package from super awesome Lily with some yummy tea and dark Dove chocolates. There was no birthday song on the package, so I have a sneaking suspicion that the crazy girl has more surpises up her sleeve.
I know, I know...no pictures. But just mentally picture 4 skeins of fabulous Lorna's Laces sock yarn, two skeins of super yummy KPPPM and another four skeins of luscious microfiber, that I can't remember the name of at the moment. These things were the result of my shopping spree to Jessica's on Sat. The woman is amazing...she knew my name, the yarn I used for my last project and even that I didn't like the yarn I used for my last project. Thankfully she made no mention of the swift incident.
All out of time here....my grandparents are taking Mike and I to Guys and Dolls and the Broadway Palms Dinner Theater. I've never been to dinner theater, so I'm excited. I just hope I can stay awake through the whole thing, the show doesn't start till six.
Parley...I have another great recipe on the way, just for you!