Sweet, sweet Friday
And the best part is, I'm heading to
Southwest Trading Company
in a few to pick up a test knit. Yeah! Jonelle informs me that its an adorable babydoll tank that has never been knit before. Although, given the results of my broadripple, I'm not sure I'm up for the challege. See for yourself.
adorable isn't it....if you have freakish elf toes, or have worn so many pointy toed shoes in your life your toes have actually become pointy! Ergh Argh. This is what I get for having Barney Rubble toes. Yep, my toes are so freakishly short that they can only be likened to a cartoon character. So, I'll have to ribbit ribbit my poor broadribbit. At least I just have to go back as far as the end of the instep decreases. ho hum.
Happy Friday
Misery
Self-inflicted misery but misery nonetheless. Why do we (women) do this to ourselves? It hurts to sit down, sit, stand up, walk, lay down, go downstairs. And no amount of Motrin, wine and hot tub soaks (simultaneous) are helping. It hurts to simply exist. Who's bright idea was it to run 4 mi on Sunday (after a roughly 8 month hiatus from running), go to a body sculpting and cycling class (consecutively) on Monday any way. Oh yeah, it was mine, dammit. As if I haven't learned my lesson, I will be heading to spin in about 45 minutes. Actually, I will be hobbling to the yellow bike of doom. Obviously, I am not that bright. 30-50 minutes of cardio 5-6 days a week and 2 days of weight training, 2 days of yoga and 1400 calories a day. If I don't lose 15 pounds by July, I am going to sue the fitness industry for spreading lies. That is only a pound a week. I think for the pain I am suffering, that is not too much to ask.
Last night was fun, there wasn't very many of us.
Brooke
and I went a little early.
Becky
,
Eva
and Jude came, and later on
Melanie
showed up. Brooke had to leave because
Jack
was a little grumpy, but it was good to see her and the little guy...he definitely loves attention! It was nice just to sit around and chat and knit. Becky taught me the awesome German Round toe technique...no Kitchner for me! So, hopefully Broadripple 1 will be finished today.
New Recipe Tuesday. It will be my goal to post a new recipe every Tuesday. I don't forsee this going very well
Spicy Eastern/African/Mediterranean style Chicken..with the usual commentary
1 pound chicken (I like to use boneless skinless thights..but use whatever cut you like) cut into bite sized pieces.
2 carrots, sliced
2 ribs of celery sliced
1 onion chopped
(for those that don't know, the aforementioned veggie combo is know in the culinary world as the Holy Trinity)
1 zuchinni - sliced
1 yellow squash - sliced
(or two of either- or none if you are a summer squash hater)
1 28 oz can chopped tomatoes in puree
1-2 cups broth (yummiest, Kitchen Basics or Pacific, if not homemade)
1 can garbanzo beans/chickpeas
half and half - can be omitted if you are a crazy dieter (see above) or lactose intolerant
tomato paste
fresh garlic - a few cloves minced. (or if you're lazy like me, buy it in the squezze bottles)
fresh ginger- a tablespoon or so minced (this also comes in the squeeze bottle)
cumin - a couple teaspoons, to taste
tumeric - teaspoon, to taste
paparika - I like the Hungarian stuff - to taste
cardamom - its strong, you don't need a lot
cayenne - a pinch
oregano - tablespoon or so
juice of 1/2 lemon
(yes I hoard spices the way I hoard needles)
Season chicken with S&P and chicken LIGHTLY in a tablespoon or so of olive oil. Remove from pan.
Add carrots, onion and celery, ginger and garlice. Saute until almost tender.
Return chicken to pan and add spices. Remember spices are to taste. Its easier to add than take away.
Add broth and tomatoes, simmer at least 30 minutes, or longer if you have time.
During last 20 minutes of cooking throw in squash and garbanzo beans, this will prevent mushiness. You may need to adjust seasoning, more garlic if you are a garlic junky, or more cayenne if you like heat. You will probably need more S&P.
If you find its to runny for your taste add a bit of tomto paste to thicken things up
When almost ready to serve, drizzle in a little half and half for a yummy creamy texture and the lemon juice to brighten the flavors.
Serve over basmati rice
YUM - all my leftover are GONE!
So its been more than two weeks since my last post
Isn't just nice to know I'm ok :-)
In my defense the last two weeks have been NUTS. I don't like be the only person doing a two/three person job at all. The fact that I CAN do it is not the point. It takes away from my blog and surf time. While overtime may be nice, I value my time much more than $. Call me crazy.
I did have three days off last week. Of course, as soon as anybody knows I have time off, I am immediately asked to do things. I had Malora (the niece, aka il monstre) all day Wed and Thursday. Beyond the money I spend on her when she comes for McDonalds, books, bathing suits and ice cream she takes all of my energy! We have to go to the park, then swimming (heated pool), then hiking, then more swimming, then out to dinner, then to the bookstore. No wonder she likes coming over to my house, she gets spoiled rotten! At least we wore her out enough to be out like a light by eight.
Then there are the out of town visitors. Mike's uncle Butch (yes his name is Butch) comes to AZ annually for Spring Training games. He usually doesn't stay with us, but this year we put him up for a night. The catch is that we had to drive to New River on Thursday night to meet Mike's mom for dinner. An hour drive for the worst food I've ever had in my life! I can't complain about Butch staying though, we invade his house in Huntington Beach every summer for over a week! This is why I wasn't at Coffee Rush on Friday, Butch was still there.
As if things weren't crazy enough I spent the rest of Friday at the DMV for the third time in two weeks. Don't ask. It involves titles for a car that I've been driving for three years, emission requirements and the inability of the DMV to have enough offices open on Saturdays, or make thier way into the 21st century with credit/debit card machines. Needless to say, I've been to hell and its the DMV.
Haven't had much knitting time, although if you ask Mike I spend more than enough time knitting. They're so funny, don't they know that there is never enough time to knit. I look at other people's work and am insanely jealous by what other's are able to accomplish when in the past two weeks this is all I've done. Yep, I doing the Broadripple. I love the yarn! KPPM is the BEST. It is unfortunate that these are for my sister, she did buy the yarn.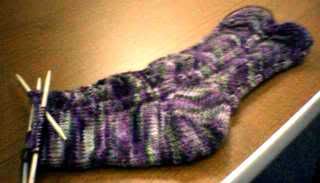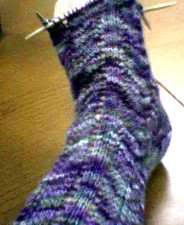 I did get to do a little shopping courtesy of Lily, who is the most special secret pal in the history of secret pals. I open my email on Thursday morning fully expecting to find work, work and more work (because unlike faculty I don't deserve a Spring Break) and instead find a $20 Elann gift certificate! With the nicest message attached. It speaks to how busy I was that I didn't even pick something out until this morning. Instead of yarn, I indulged my needle habit and bought 5" Brittany Birch double points - for more socks - AND a double point needle case! Thanks Lily! You're the best.
Ok, I think this is long enough now. But before I go, Becky has set up a SNBAZ blog! How cool is that. Check it out
here
. I'm glad I did, or I wouldn't know about the meetup at Essenza! Walking distance from my job! Phew....I was going through withdrawals. I'll be there early about 5:30 if anybody wants to join.
Loser of the week - Tom Delay, for successfully redirecting focus from his unethical campaign activities to again, successfully, wasting tax payer dollars debating an issue that is entirely none of the government's business. If the government had stepped in when I had to make a decision about my father's life and future I would be furious. It is hard enough. I'm sorry, but the Republican party is completely out of control and its tragic that the Democrats can't pull their heads out of their asses long enough to do something about it.
Movie that will make you angry at US foreign policy priorities and the media. Sometimes In April, currently on HBO. Over a million people died within a six month period in Rwanda in 1994 and nobody cared. This was genocide of the grandest scale. You know what I remember being on the news in Spring of 94. Kurt Cobain's suicide.
Those are my political statements for the next few months.