Hello out there
Yes, Its been a month since my last post, I feel like I should go to confessional or something.
First things first. I don't yet know the identity of my super cool secret pal - Lily, but she has been incredibly great and creative and all around wonderful. Look at what she sent me...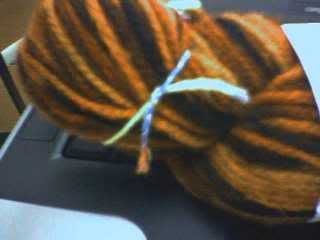 This is just one of six skeins -
1200
yards of wool. But not just any wool. Custom dyed, especially for me, wool from
Wool Soup
. The colorway is called Madame Pele. Of course, I had to google Madame Pele and she is the Volcano Goddess responsible for creating the Hawaiian islands. Cool huh! The picture doesn't come close to doing it justice. Its a beautiful combination of reds and browns and oranges. I love it and can't wait to knit something gorgeous with it. Thank you Lily! Your the best EVER! I can't believe you had somebody create a colorway just for me!
I also finished Elegante, my test knit from
SWTC
. So adorable. I used Oasis, their ribbony type yarn and LOVED it. The pattern has to be reworked because the numbers were a little off, it came out really, really big. Yes, I swatched and yes I got gauge. But still really big.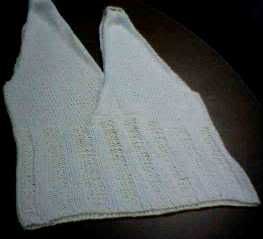 For my efforts, I received 5 balls of Oasis in Rose and am using it to knit
Soleil
. I had no idea this pattern was so popular in blogverse right know, but everywhere I look it see it. Here's my progress.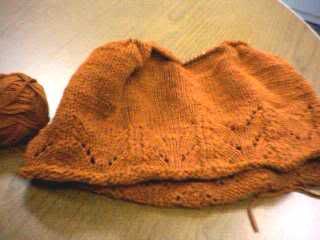 While I was dropping off Elegante, Jonelle showed my their new yarn, Karaoke. My first impression. MANOS...but better!!! She decided that she wanted a booga bag to show it off, so guess who gets to knit and felt this lovely yarn. Oh, this yarn is so lucious. When I'm done, I see a
Sophie
bag in my future.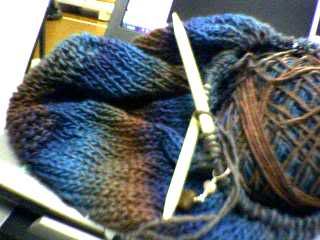 Finally, I had a really good time in San Francisco. The conference went well and there was only one trip to the emergency room, a small outbreak of pink eye and once incident of a topless female in the stairwell. Ahh, to be a crazy college student again. As a student, I certainly did my fair share of partying at this conference and seem to remember a bagel heist, but never, ever, did I run around the hotel topless.
Ok, one last thing. Mike graduates on Friday. YEAH Mike. He's worked really hard the past year, not just on school but on so many other things, and even though he still does things that annoy me, like leave coffee cup rings on the counter, I'm very proud of him.