bagbeckyATyahooDOTcom. Email her!
The president of the college walked into my office for the first time EVER and I was blogging. CRAP, haven't blogged in, let's not mention it, and he walks in TODAY. WTF.
Knitting and wine
Let's not mention how long its been and just say that I'm officially the world's worst blogger. But I do have proof that I have been knitting. See...I'm a real knitter baby! Excuse the crappy picture, excuse all the crappy pictures in this post. But hey, crappy pictures are better than no pictures right!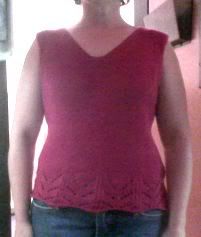 Soleil in its final form. It was really fun to knit. I only ripped out the lace edge once, not bad. I knit the smallest size on size 6 needles and used 3 1/2 skeins of Phoenix from
SWTC
. This yarn blocks really well. It softened and relaxed quite a bit, good thing otherwise it would've been to small! Its light enough and cool enough to wear even when its 110!
Next up. I bought what is quite possibly the most amazing knitting back in the universe...so amazing that it deserves an entry in the Hitchhiker's Guide to the Galaxy. Yes, I'm currently on a Douglas Adams kick. Can't help it, British humor and sattire is the best. Here are the pictures...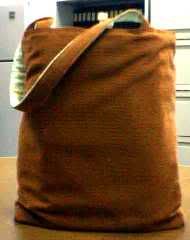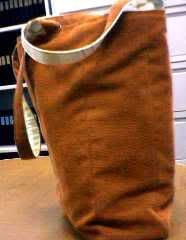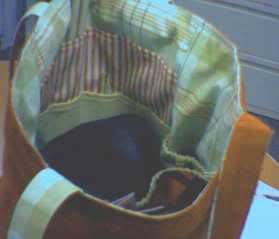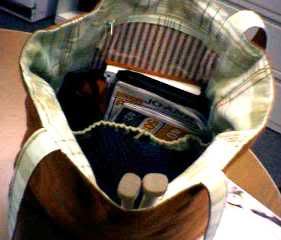 This bag is handcrafted by the ubertalented Becky Williams. It has specially made pockets, long and short, on the inside for long straight needles, dpns and will hold circs. A plastic pouch zippered on the inside holds all your knitting notions securely and there are big pockets for patterns. She knows I like red and yellow and found the perfect material. This bag is worth much more than I paid for it. We all understand the value of handcrafted items and the amount of time and effort that goes into them. If you want one, leave a comment and I will make sure Becky gets your request. Also, I may have her email address posted on the blog. And YES, she totally deserves this shameless plug. Not only is she talented, but she is a very cool chickadee, and its just an extra bonus to buy something from someone so nice.
Speaking of nice. If you are
Suz'
s SP5, spoil her rotten. She totally deserves it. This is a much better picture, stolen right off her blog of the beeeaauuutiful custom dyed wool she sent me as my final surprise. Yesterday was her birthday, so run right over and wish her well. She's a doll.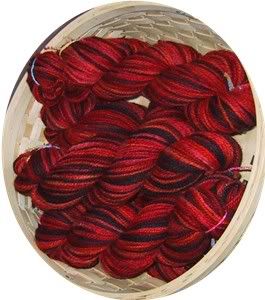 On to the wine part of this entry. The SnB'ers hung out at
Red Kangaroo Wines
. It was fabulous. I had to leave early. Damn stupid work. The wine was yummy (yep that's my official description- yummy), the cheese was good and the atmosphere was great and the best part, it was CHEAP. We definitely must go back, good wine at those prices could definitely be dangerous.