Don't tempt the knitting gods
with questions of how or why....just be thankful when this happens.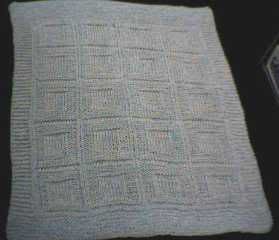 in less than a week. It is 33x46 and it is done. Completely. I am not going to block it because it is *gasp* acrylic and won't block anyway, so I'm just going to throw it in the washer. I used 4 skeins of (two pastel green and two white)Carreon Simply Soft, and yes it is incredibly soft and for 2.50 a skein, the price can't be beat. Phew, obligitory knitting complete. Although, I think I may do a baby hat or two...but no pressure!