book meme
1. Total number of books I own? I live with a book collector, not by profession, by hobby. I've tried to put a moratorium on the book buying until I have a house with a book room...its not working out so well. If I can include multiple copies of the same book because the covers are different, somewhere in the neighborhood of 800 - 1000. I stopped counting at 500.
2. The last book I bought? The Eyre Affair, Jasper Fford and Meditations for Women Who Knit Too Much. Purchased on the same day. Yes, I'm violating my own moratorium.
3. The last book I read? Its really five books, but the entire Hitchhiker's series. I've never been so ready to be done with a series. Oh, and I'm still trying to finish Anna Karenina....but oh, so depressing
4. Five books that mean a lot to me? This one is really hard. How does one choose only five books!
America, Democracy Inaction, Jon Stewart. I have never laughed so hard at any book EVER.
the Ramona books, Beverly Cleary. I couldn't get enough of the pesty Ramona as a kid.
The Great Gatsby
Mrs. Dalloway
Dracula
- I'm sensing a trend in depressing literature. hmmm....let's trying something lighter
Bridge Jones Diary.
Well....The lace is pretty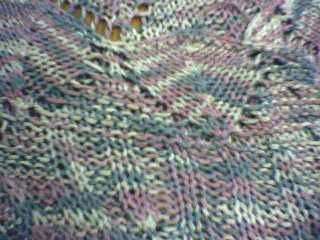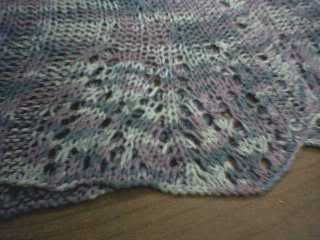 Just refer to page 138 of book...book...
book
and I won't have to tell the whole story. Although I will say that I SWEAR it was going to be too small for me and now it wouldn't fit a gorilla. AND I was ALMOST right on gauge. I had to go up three needle sizes to even come close. I blame the yarn. Not that I don't love SWTC Oasis, it is soft and wonderful, and the colors are to die for and it stretches, a lot, when wet blocked. Yep, won't be wet blocking it again.
On a good note, the pattern was lovely and Annie is doubly lovely. One silly little question and she emailed me back right away with an answer. It is an easy, easy to follow and really only a moron could mess it up. Yeah, that would be me.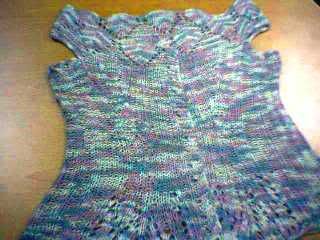 What to do, what to do. I thought about soaking it in hot water to make it shrink, and haven't found any horror stories, I mean reflections on that idea in book...book...book, so it may work. Or, just frogging the thing and using a more appropriate yarn that will get gauge on a more appropriate size needs.
While I ponder the solution to the hugeness of my silky, ribby, mini cabley, lacey corset. I decided to work on the cable and rib socks from spring 05 IK. There's nothing like a sock to make a girl feel right with the world.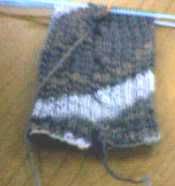 mmmm...lorna's laces...mmmmmm.
book meme...saving it for tomorrow. I promise I'll post it.